Here are the dogs of Dog Rescue of Maryland, and the Adoption Application to adopt if interested, as well as our Foster Application if interested in helping to save the life of a dog in need the next time a foster is needed (and we DO need more fosters!).
For more pictures and information on the dogs listed below, as well as courtesy listings of other wonderful dogs in need of a new home click the link 'additional information' below.
Adoption and Foster Application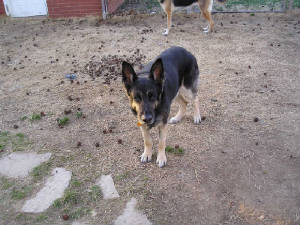 5/12/2014 Finale update- It is with great sadness that we post this update. Our senior man Sargent went to 'The Bridge' today where he will be waiting for all those who loved him. Sargent lived his rescue years not as a foster but as one of the family in the home he first went to as a foster and was very much loved in. Run free my friend with no more worries or pain.

~~~

A very happy but sad up date on Sargent. The happy part is we have decided to not move Sargent from the home he has know since joining our rescue. The sad part is that decision has been made because of his aging joints. Sargent will remain in what was his foster home, and is now his home, and the rescue will continue to keep him on joint supplements and pain management along with the rest of his medical needs.

If you have been interested in this beautiful boy but for some reason could not have him join your family please consider sponsoring him to help cover the cost of his medicine which runs about $225.00 a month. He, as well as we, would be very grateful.
Sergent is a wonderful dog. He has the energy of a puppy and the discipline of an older dog. He loves to play with his ball ball, he loves to play with his foster brother and sister and is just enjoying himself. He has put on some weight and looks fantastic, a very handsome German Shepherd and he is very gentle. If you're looking for a dog that your children can play with and not have to worry if the dog will bite them Sergent is the one. He is the type of dog that doesn't get upset if you pull his tail or trim his nails he just tolerates anything you want to do. I'm not suggesting anybody pull on his tail but kids sometimes forget. He does have a lot of energy and he does love to bark. Just his size alone and the loudness of his bark is enough to scare any would be intruder he makes a very good guardian dog for your home when you're not there but he is all bark and no bite. UPDATE: August- Sargent spent sometime in foster to adopt but that did not work out because of the many steps in the home. Since he has been back with his foster he is no longer limping and is back to playing with the other dogs in his foster home. Sarge will need to go to a home WITHOUT steps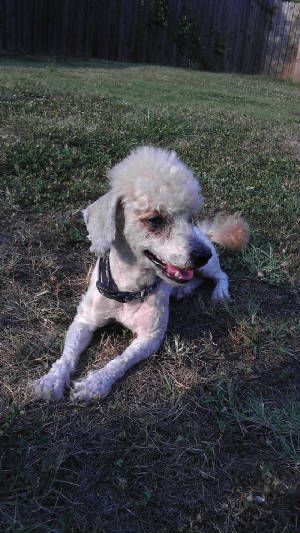 Meet Curly! Curly came to us as a stray and after waiting through several weeks of advertising him as being found, and receiving no information as to where his "home" was, he officially joined our furry family! After having him only for a few days much was learned about him that made us very glad his owners were never found. Curly was extremely fear aggressive, and had been neglected. We had no clue what breed he might be other then a ball of matted fur. Because of his fear, and the severity of his matts, he had to be put under anesthesia and shaved. That is when we learned he is a Poodle or mix of! Curly has been with us about 1.5 years now, and over that time he has moved past most of his fear issues. I am excited to say that I (his foster) have been able to gain his trust enough to fully groom his coat with no aggression of muzzle!! Curly is still not issues free. He remains a work in progress that takes lots of love, patience, understanding and kindness...and training. Although Curly does LOVE children that does not mean he can go into a home with just any children. The children is has been around have been taught since babies to respect and treat with gentleness all animals they are around. There has to be limits set for children as well as pets.

We are guessing Curly's age to be about 2.5 now. He is mostly house broken but will still mark in the house. This is actually a training issue that needs one-on-one attention. There is zero food aggression with people of all sizes, other dogs or cats!

If interested in giving Curly a home full of love, patience, kindness and training please contact us at dogrescuemd@live.com or download our application above.

MEDICAL UPDATE and PLEA: On September 29th he had to undergo surgery for 2 (very badly) ruptured discs which he narrowly missed being paralyzed from. He is not totally out of the woods yet, and the coming days will tell us more about his neurological condition.

His exam and MRI visit yesterday was just a little over $2600.00, and the estimate for surgery, treatment and recovery is so far $3500.00 - $5,000.00. He has a 95% chance of temporarily (a few days to and few weeks) losing his ability to urinate and walk and 5% chance of being paralyzed. Without treatment it was 100% being paralyzed.

Here where all of you come in. We are in need and asking for three things...
1. Thoughts and Prayers...
2. Shares of his post...
3. And of course any donations you are able to give.
ALL of which will be greatly appreciated.

You can make checks payable to Dog Rescue of Maryland and mail to PO Box 515, Pasadena, MD. 21123,
Or use our secure Pay Pal site linked on our web site below, note donation is for Curly.

Both of which 100% of your donation comes to us
Or donate using our Go Fund Me link here www.gofundme.com/2rycptw
We are an approved 501c3 non-profit rescue so your donation is tax deductable.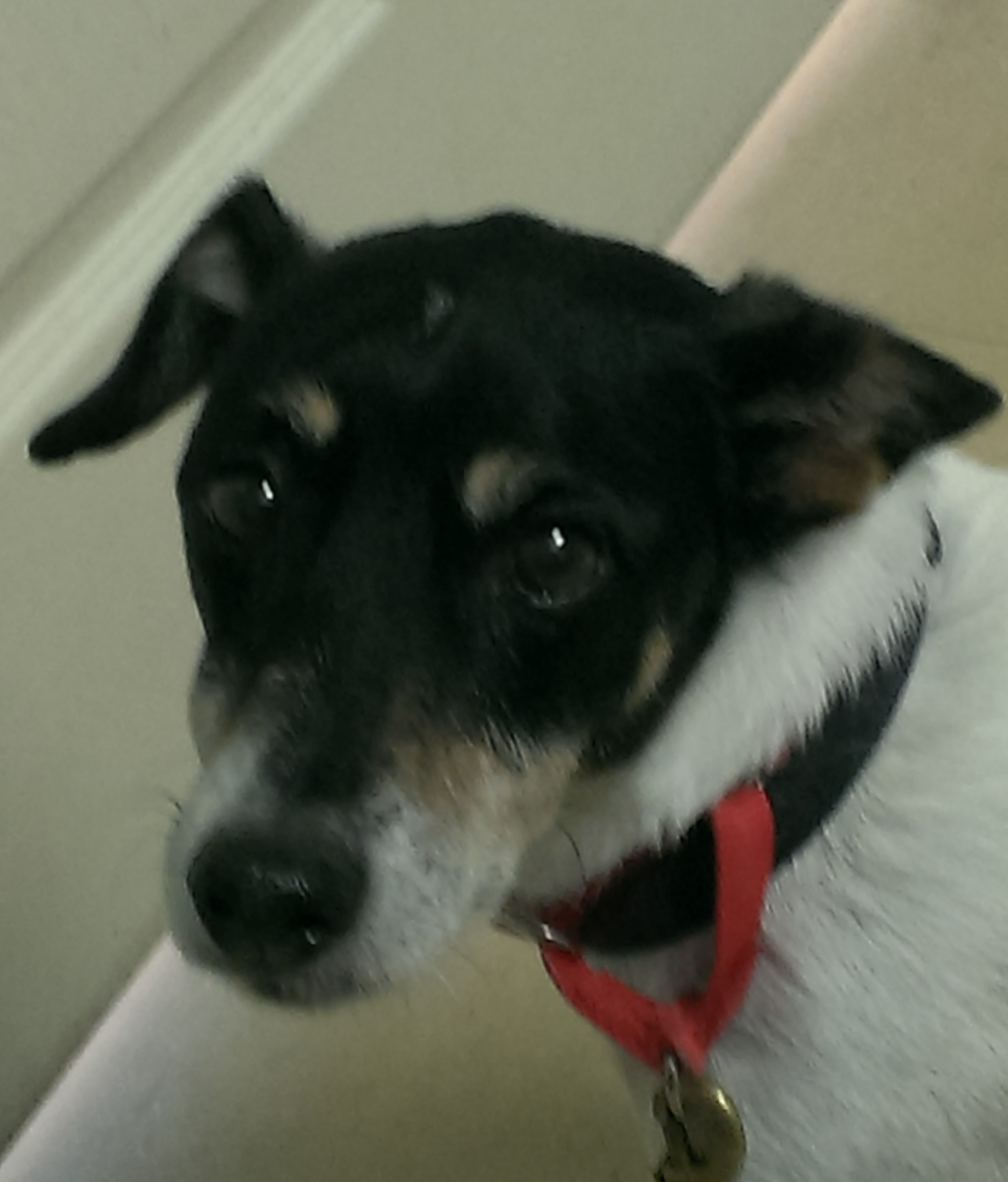 My name is MOJO. I am looking for a new forever home along with my sister HARLEY below. We are Jack Russell Terriers about 8-10 years old. We are house broken, good with cats and other dogs and good with children. Right now we are in foster with a wonderful, loving family who just could not stand the though of us being seperated after spending all our lives together. If you have a loving heart and would like to grow your forever family by two please contact the folks at dogrescuemd@live.com and they will be happy to help you!